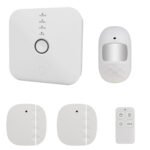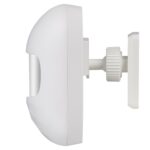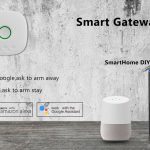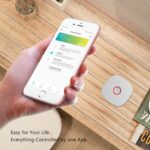 Kit antifurto casa senza fili wireless Tuya Smart life Home WIFI GSM
136,00€
Tuya Smart life alarm. Allarme di sicurezza domestica wireless GSM e WIFI senza fili. Compatibile con Google Assistant e Amazon Alexa. Include 1 host con alimentatore e sirena incorporata, 2 sensori porta, 1 sensore di movimento, 1 telecomando. Gestione remota tramite smartphone con app gratuita.


Il kit è configurato.
Disponibile
Descrizione
Packing List
Host 1pc
Remote Controller 1pc
Wireless Door Sensor 2pcs
Wireless PIR Detector 1pc
Power adapter DC 5V / 1A 1pc
Main Features
Host
Power supply: DC 5V, Current: 2A
Wireless standard: IEEE 802.11 b/g/n
RF distance: 70m(no obstacle)
Modulation: AM
Working environment: temperature -10℃ ~ +50℃
relative humidity ≤ 90%RH
Size: 118*118*23.8mm
WiFi connection, mobile APP control.
Support 6 groups of alarm phone numbers, and 6 groups SMS receiving
numbers.
Set up alarm phone number by mobile APP.
Wireless communication, no wiring.
Account classification management, administrator and visitor.
Support 10 wireless zones, every zone support maximum 10 sensors, support 8
remote controllers.
Low power consumption, super long standby.
Sub-device with low-power reminder, status tracking and offline reminder
function.
Intelligent scene recognition, not closed reminder for door.
Support multi-zone types switching, adapt to more security scenarios.
Built-in high-capacity lithium battery, is also operational when temporary power
failure.
Built-in 90dB siren, support external wired siren, support wireless outdoor/indoor
sirens also.
PIR detector
Normal Mode(T): After one effective triggering, in 1 minute other triggering will no use, the 2nd triggering only work after 1 minute. This mode is suitable for home and place not too big use.
Smart Mode(S): After one effective triggering, if trigger it again in 1 minute, the detection time will be cleared, and restart the time, only after 1 minute the triggering will be effective. This mode is suitable for place with many people to save power.
Note: This PIR detector is only for indoor use, does not have anti-pet function.
PIR detector
Battery: DC 3V(2*AAA)
Standby current: ≤20UA
Alarm current: ≤20mA
Wireless distance: 70m(no obstacle)
Detect distance/ankle: 7m/90°
Working environment: temperature -10℃ ~ +50℃
5%~95% RH(no condensation)
Size: 94*54*41mm(not include bracket)
Door sensor
Battery: DC 3V(1*CR2032)
Standby current: ≤3UA
Alarm current: ≤15mA
Working environment: temperature -10 ℃ ~ +55 ℃
≤80%(no condensation)
Size: 50*35*17mm(Transmitting); 48*13*17mm(Magnetic bar)
Remote controller
Battery: DC 3V(1*CR2032)
Standby current: ≤3UA
Alarm current: ≤15mA
Wireless distance: 70m(no obstacle)
Working environment: temperature -10 ℃ ~ +55 ℃
≤80%(no condensation)
Size: 69*36*11mm
Informazioni aggiuntive
| | |
| --- | --- |
| Peso | 0.600 kg |
| Dimensioni | 32 × 23 × 12 cm |